In 2021, DJI launched the DJI Action 2, a revolutionary design and a total change from the original Action, which was a worthy competitor to the GoPro. I loved the old Action until it leaked while snorkeling in Jervis Bay and when I couldn't revive it, I decided to give DJI another chance with the Action 2. Here are my thoughts after using it for capturing shots of the family skating, surfing and taking it on 3 surf trips.
My Action 2 Setup
I got the bundle with the front touchscreen module which in all honesty I hardly ever use. It seems to be made for vloggers that need a front facing screen.
I use the original Action's selfie stick from PGYTech. It does the job well and can also be used as a tripod.
In the water I use a generic floaty stick which has outlasted 4 action cams. This size may be overkill for the new camera.
Necklace attachment. Works well in practise but haven't really used it for shooting.
Waterproof and Weatherproof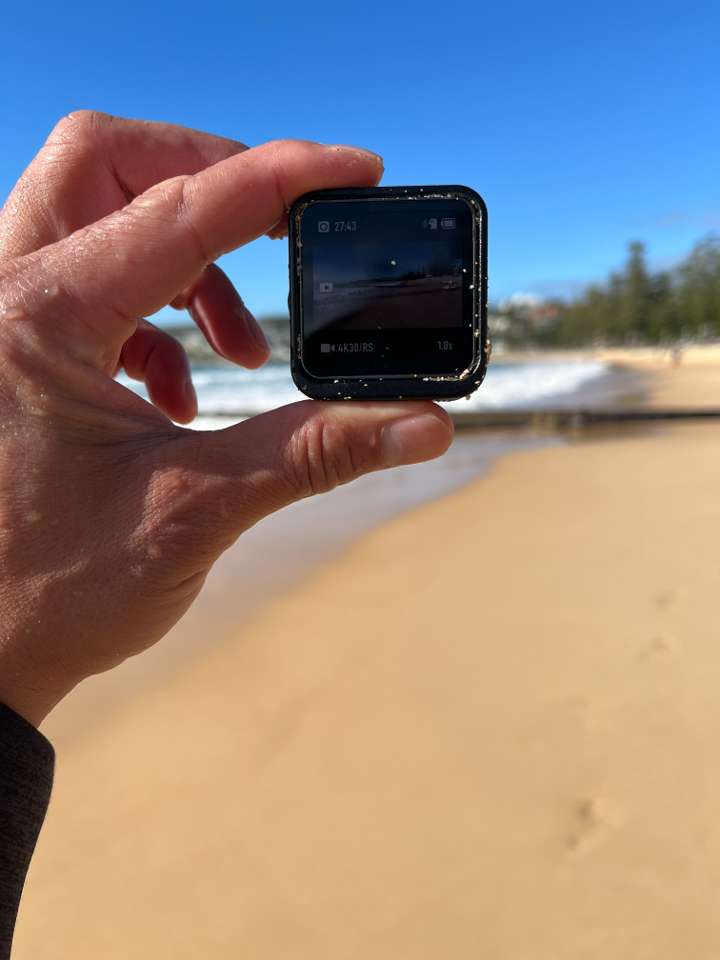 The biggest difference between the Action 2 and the previous model is the new modular design. The tiny main unit is self contained without external ports and attaches to other modules (front touchscreen, battery) and tripod connectors by a strong magnet at its base. It sounds like a gimmick but it worked well in real world situations. Having no openings, the main unit is completely water and weather proof. My old DJI action and GoPros leaked at the openings and completely trashed the cameras. With the new Action 2 I have complete confidence when bringing it into the surf.
One thing worth noting, is that the other add on units are not waterproof, so don't expect to use the add on storage or screen module underwater without an additional waterproof case.
Magnetic Attachments
I couldn't believe how well the magnetic attachments worked. They are fast to attach / detach and stay on strong. Makes swapping to different mounts super easy. You don't have to fiddle around with a cage anymore. I Had no issues out in the surf with this, paddling and duck diving. Although the waves weren't very big. Its also been with the the kids and on a bumpy doughnut boat ride in Nusa Dua without coming loose. Well done! DJI!
Lens
One of the original issues with the old Action was the lens wasn't wide enough at 145deg and even with a selfie stick you would miss some of the action when shooting. When filming myself on some powder runs in Myoko, my Gopro captured much more of myself and the snowboard. The lens on the Action 2 now has a super-wide angle of 155deg, wide enough for group selfies and action shots.
Stabilization
The stabilization is incredible with 4 different modes. The default steady mode, Rocksteady, Horizon Balancing and Horizon Steady. Your choice of mode determines the FOV while filming. So the more stabilization, the less FOV you get. In rocksteady, videos show hardly any jitters from hand shakiness and using horizon levelling makes it look like the videos were shot on a tripod. What kind of black magic is this. I do wish that they will be able to one day maintain the max FOV even with stabilization / leveling on. Having to choose before shooting takes away the spontaneity of using an action cam.
Battery Life
When in use, the batteries don't last super long due to its tiny size. Around an hour of total operation. On the go, battery life can be extended or the main module can be recharged by attaching it to either of the additional modules.
No Ports
The downside of having a completely sealed unity is there are no ports - you can't attach cables, and there is no where to insert an SD card. You have to use the built in memory built of the main unit. In order to use SD cards, you need to have the other module attached. But this means the unit won't be waterproof.
To transfer the data off the main unit, you can either attach a cable to your computer to transfer your data, or transfer it to an SD card using an extra module. An added process. I found the 32 GB (22 GB available) more than enough for a few sessions before needing to format it, so it wasn't much of an issue for me.
Sensitive Touchscreen
Often times I would paddle with the floaty stick in one hand and get ready for a shot, only to find that the constant splashing on the touchscreen has caused a UI menu to pop up, or mode change. Would be great if you could lock the touchscreen on the Action and only use the record button.
Update. Looks like you can do it My bad. RTFM!!
Overheating
There have been reports of overheating on the Internet. As I have only primarily used it in the water, the Action 2 hasn't overheated on me. That said it does get quite hot. DJI has a free cage which is meant to help with heat dissipation which I am keen to try.
Wishlist
The Action 2 is tiny and I wish there was a floaty case for it that is small enough to fit in the pocket of my board shorts or the chest section of my wetsuit. The unit itself is quite slippery and a case would also help when using it without an attachment.
Conclusion
Overall I am super happy with this little beast. We have taken it on several trips now and I haven't come across any issues. Its definitely a worthy addition to our travel gear collection.